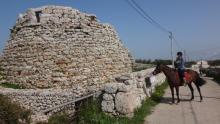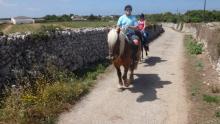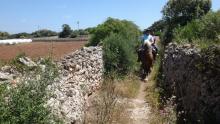 1 or 1.5 hours,  suitable for all levels including complete beginners
Come to enjoy the Menorcan countryside on horseback
The countryside rides pass through small roads and tracks close to the stables, you will see some typical local scenery with small fields bordered by dry stone walls.
 
If you are a beginner we will help you to mount your horse and explain how to sit correctly and how to 'talk to' your horse. Once you are comfortable we set off with an experienced guide for a ride through the lanes. We have quiet, well trained horses ideal for less experienced riders and children can start out on a lead rein if necessary.
If you are nervous or have young children (10 or under) the 1 hour route will be best, we will walk alongside you if necessary. We go along a quiet lane towards a spectacular prehistoric Talaiot (stone tower)  before retracing our steps to the stables.
For other riders the 1.5 hour route is a bit more challenging, we ride past the Talaiot and on towards an early Christian basilica where, if time permits, we dismount to admire the beautiful mosaic pavement, you will see a part of Menorca rarely visited by tourists. 
For your safety, all riders must wear helmets which are provided. You will be most comfortable riding in long trousers and trainers or shoes. We also have half-chaps for loan.