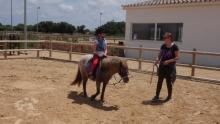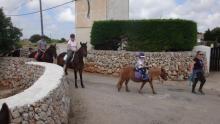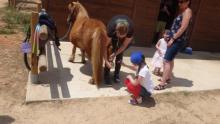 Family Ride - 1 Hour
Adults and children can all enjoy a ride together, mounted on appropriate horses and ponies. We all make a couple of circuits of the pony ring to make sure everyone is happy and then head off for a trip along the local lanes, afterwards we encourage children to help with untacking and brushing their pony.  This is suitable for children of 8 and older, and possibly 6 or 7 year olds who have ridden before.
Pony Playtime - 1/2 hour
A short introduction to ponies for younger children, after getting to know their pony we have a short ride in the pony ring and then around the stable area and fields, after the ride children are encouraged to help to untack and brush their pony.  This is suitable for children from 3 upwards, parents can also ride along if they want to.